Ganesh Chathurthi 2023: Empower Education with Ammucare
As the festival of Ganesh Chathurthi arrives, homes are filled with joy and streets are awash with the chants of "Ganpati Bappa Morya." At Ammucare, we believe this festival offers not just a reason to celebrate but also a profound opportunity to spread wisdom, as embodied by Lord Ganesha, the patron of intellect and learning.
Why Wisdom Matters: The Tale of Lord Ganesha
In Hindu mythology, Lord Ganesha is revered as the God of Wisdom. It is said that he wrote the epic Mahabharata, as sage Vyasa narrated it, signifying the importance of education and the written word. Lord Ganesha's dedication to learning is a divine testament to the power of wisdom in overcoming life's obstacles. Similarly, every child endowed with education gains the strength to overcome barriers, break the cycle of poverty, and write their own epic tale of success.
Despite the immense value of education, millions of underprivileged children in our society are deprived of basic schooling. They are forced to abandon the very tool that can carve out their future: education.
How You Can Make a Difference?
This Ganesh Chathurthi, be a part of our "Empower Education" campaign and take a step towards empowering these young lives. Your contribution can help provide:
Books for a Year: ₹5,000
School Uniform and Supplies: ₹10,000
Tuition for a Year: ₹20,000
Online: Click the "Donate Now" button below.
Bank transfer:
NEFT A/c name: Ammucare Charitable Trust
Current account no: 10620047858
Bank :State Bank of India
IFSC Code: SBIN0012886
Address: SBI, Victoria College Road br Palakkad-678001, Kerala Branch Code: 12886
QR Code: Scan to donate instantly.
All donations are tax-deductible, and you'll receive a certificate of appreciation from AmmuCare.
Lord Ganesha is not just a deity to be worshipped; he is an embodiment of the wisdom we need to instill in our future generations. This Ganesh Chathurthi, let's unite to gift the power of education to those less privileged. Because every child deserves the wisdom to overcome their life's obstacles, just as Lord Ganesha does.
Donate today and light the lamp of wisdom in a child's heart. Ganpati Bappa Morya!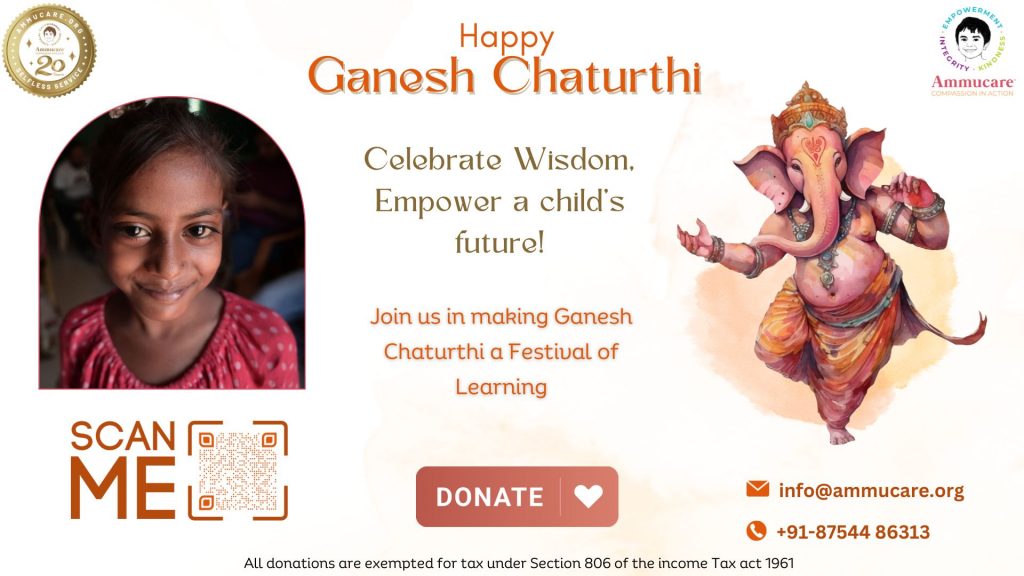 Ganesh Chathurthi Education Fundraiser2023