Annadaan Pitru Paksha 2023
Welcome to a Landmark Moment
For two decades, Ammucare has been at the forefront of providing comfort, nourishment, and hope to countless lives. As we celebrate our 20th Anniversary, we invite you to be part of our most ambitious project to date: serving 80,000 meals during the sacred period of Pitru Paksha in 2023.
Why Annadaan, and Why Now?
Pitru Paksha is a significant 16-day period in the Hindu calendar devoted to paying respects to one's ancestors. During this time, several rituals and ceremonies are performed, including Tarpan and Shraddh, to seek blessings and ensure the peaceful journey of the departed souls. However, one activity that stands out in terms of spiritual resonance and social impact is Annadaan—literally meaning the 'gift of food'. Read on to understand the elevated importance of Annadaan during Pitru Paksha 2023.
Why is Annadaan During Pitru Paksha So Important?
Annadaan, or the offering of food, transcends the mere act of feeding the hungry; it is a spiritual endeavor with long-lasting karmic impacts. Performing Annadaan during Pitru Paksha holds specific significance for several reasons:
Amplified Spiritual Rewards: The period of Pitru Paksha is believed to open a cosmic window, magnifying the effects of all spiritual activities. Annadaan performed in this timeframe hence earns greater spiritual merits.
Honoring Ancestors: It is a common belief that the act of Annadaan pleases the ancestral spirits, ensuring their blessings for prosperity and well-being in the family.
Community Welfare: The social impact of feeding the needy and destitute during this spiritually charged period amplifies manifold, promoting community bonding and social welfare.
The Connection Between Annadaan and Sacred Locations
Performing Annadaan at spiritually potent locations across India has an even more elevated impact. Places like Varanasi, Tiruvannamalai, and Prayagraj are not just geographical markers but spiritual vortexes where acts of kindness reverberate through the cosmos.
The Grand Plan: 17 Spiritual Hubs, 80,000 Meals
Over the course of Pitru Paksha, we intend to serve 80,000 meals across 17 sacred locations in India. From the holy banks of Varanasi to the divine plateaus of Tirupati, we will distribute more than 5,000 meals daily.
Haridwar
Hrishikesh
Shiridi
Beed
Puri
Tiruvannamalai
Vaishnodevi
Prayagraj
Ujjain
Tiruchendur
Varnasi
Palani
Ganeshpuri and Badlapur
Jammu
Girnar
Srisailam
Goa
The Grand Plan: 17 Spiritual Hubs, 80,000 Meals
Any contribution, large or small, goes a long way in making this dream come true. Click below to donate and make a tangible difference.
Volunteer Your Skills and Time
Be it helping with food distribution on the ground, aiding in logistical coordination, or amplifying our message on social media, your expertise can help us reach our goal.
Transparency We Pride Ourselves On
Transparency isn't just a policy; for us, it's a commitment. We will provide regular updates on how your contributions are being used, complete with financial reports and progress photographs.
The Grand Plan: 17 Spiritual Hubs, 80,000 Meals
"Volunteering with Ammucare felt like coming full circle—joining a cause that uplifts both the individual and the collective."
"My donation wasn't just about the money. It was a conscious act of participating in something larger than myself."
What is Pitru Paksha Annadaan?
Pitru Paksha Annadaan is a special initiative by Ammucare during the period of Pitru Paksha to provide meals to those in need. The campaign is aimed at distributing over 5,000 meals daily across 17 sacred locations in India.
Why is the campaign focused on serving 5,000+ meals a day?
Ammucare is celebrating its 20th anniversary, and we wish to make a substantial impact to honor this milestone. By aiming for 5,000+ meals a day, we can reach a larger audience and deliver our message of compassion and charity effectively.
You can donate through our official website. We accept multiple forms of payment including credit/debit cards and electronic transfers.
Can I specify which location I'd like to support?
Yes, during the donation process, you can specify which of the 17 sacred locations you'd like your donation to benefit.
Is my donation tax-deductible?
Yes, all donations are tax-deductible. After making a contribution, you will receive a tax receipt via email.
Can I volunteer for the campaign?
Absolutely! We are looking for volunteers for food distribution, coordination, and social media promotion. You can sign up on our website.
Are there any restrictions or COVID-19 guidelines I should be aware of?
Ammucare is committed to adhering to all local and national COVID-19 guidelines. Each location may have different restrictions, so please refer to local guidelines or contact us for specific information.
How can I stay updated on the campaign's progress?
We will provide regular updates via social media and email newsletters. You can also check our website for the latest news and updates.
What does Ammucare do with excess funds, if any?
Any excess funds collected during the campaign will be allocated towards future charitable initiatives under Ammucare.
How can I spread the word?
You can support us by sharing our campaign on social media platforms like Facebook, Twitter, and Instagram. Word of mouth also goes a long way in helping us reach more people.
Why is Annadaan considered so significant during Pitru Paksha?
Annadaan during Pitru Paksha is considered a spiritually resonant act that not only helps feed those in need but also brings peace to departed souls and ancestral blessings.
Can I contribute food items instead of money?
While monetary donations are the most effective way to support the campaign, we do accept in-kind donations depending on the needs of the specific location. Please contact us directly for more information.
What safety measures are in place for food preparation and distribution?
We adhere to the highest standards of food safety and hygiene, compliant with both local and national regulations.
How is Ammucare planning to reach the goal of 5,000+ meals daily?
Ammucare has a dedicated team of volunteers and coordinators at each location to manage the logistics of food preparation and distribution to reach our ambitious goal effectively.
Who can I contact for more information?
For any queries, you can reach out to us via email at contact@ammucare.org or call our helpline.
By getting involved in Ammucare's Pitru Paksha Annadaan campaign, you're not just making a donation; you're becoming part of a greater cause that aims to bring about real change and spiritual upliftment. Thank you for your support!
Don't Miss This Chance for Cosmic Good
In a world fragmented by division and strife, acts of universal kindness resonate far and wide. This Pitru Paksha, become part of an initiative that seeks not just to feed, but to heal and uplift. Help us make our 20th-anniversary celebration a spiritually enriching experience for all.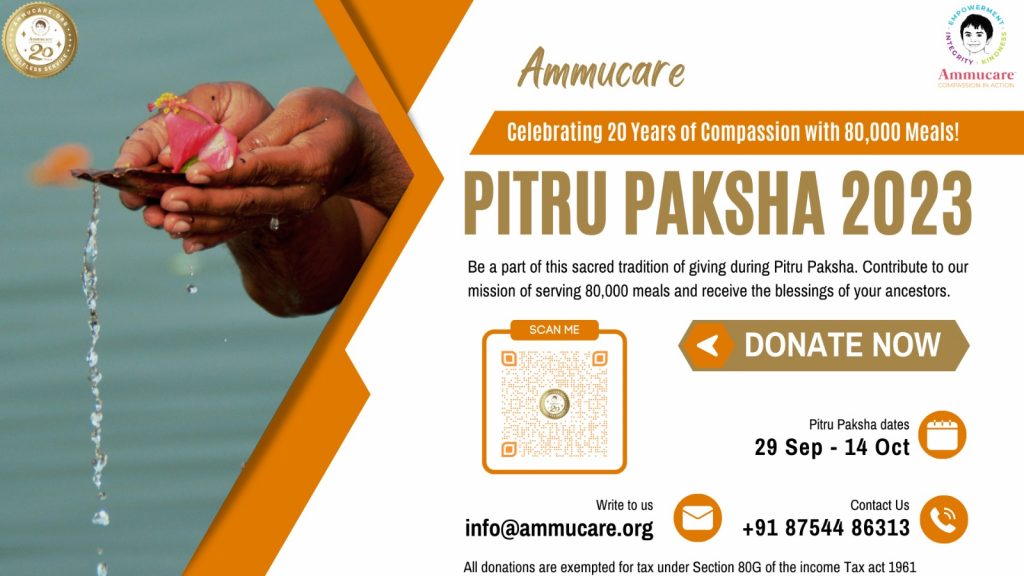 20 Years of Caring, 80,000 Meals of Sharing