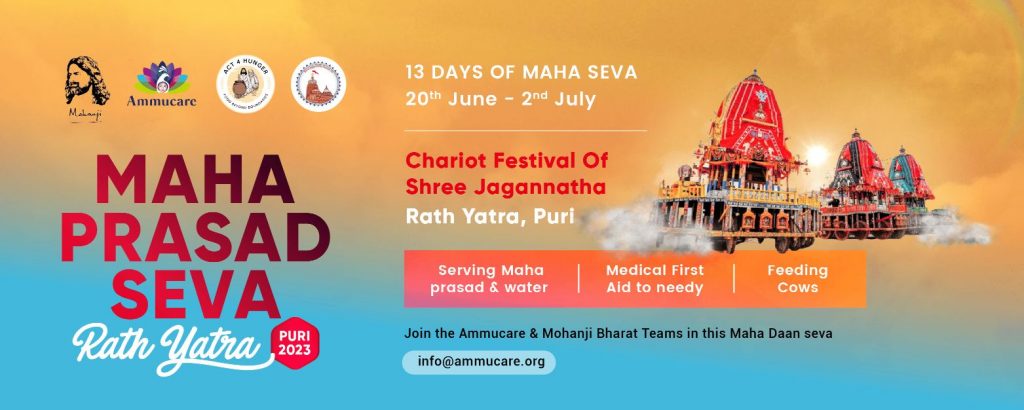 With the blessings and grace of our beloved Mohanji, Mohanji Bharat and Ammucare joyfully announce the Second year of Maha Prasad seva at Puri during the most auspicious Rath Yatra festival that will be taking place during 20 June – 2nd July
Over these thirteen powerful days, we will once again be serving Maha Prasad, which is the most sacred of all foods as it is first offered to Shri Jagannatha himself, to the pilgrims who will be pouring into Puri, braving the harsh heat and huge crowd to participate in the Rath Yatra of their most beloved deity.
Last year, the Maha Prasad seva was a spectacular success! By Mohanji's grace, we were able to offer Maha Prasad and water to 38,000 devotees as well as the police/paramilitary forces who were working tirelessly in gruelling conditions to ensure that the Rath Yatra took place smoothly.
This year, from 20 June to 2nd July, we once again aim to offer Maha Prasad to thousands of pilgrims from the stall of Mohanji, which would be right next to the Gundicha Mandir, where the Lord would reside for these auspicious nine days. And five days near shree mandir ( main temple) In addition, we will also offer water and first aid to those in need.
This year, Ammucare has taken up one more important initiative! As Puri gears up to celebrate the Rath Yatra, hundreds of stray cows that wander the streets of Puri are taken to a special shelter, and they are kept there for the duration of the Rath Yatra. Ammucare will be feeding these cows nutritious food such as vegetables and fruits throughout this period. We do hope all members of our Mohanji family will take this beautiful opportunity to support the care of these sweet and helpless beings during the time when Jagannatha, who is also Gopala – the one who protects cows, leaves his abode to meet his devotees.
Dear ones, Lord Jagannatha's love for his devotees is unparalleled, as proven by the innumerable, intensely touching miracles that countless souls have experienced over centuries. And what could be a better way of receiving the Lord's unlimited grace and love than by supporting this incredibly powerful seva of feeding his Maha Prasad to those who are most beloved to him – his devotees.
So, we truly hope each one of you will make use of this priceless opportunity to receive Jagannatha's immense blessings.
This is going to be a huge, unforgettable event, and we request our entire global family to come forward to make it a grand success.
Approx cost including food, labor, etc is Rs 10 lakh.
To contribute, please follow options;
NEFT A/c name: Ammucare Charitable Trust
Current account no: 10620047858
Bank :State Bank of India
IFSC Code: SBIN0012886
Address: SBI, Victoria College Road br Palakkad-678001, Kerala
Branch Code: 12886
Current Account Email : 
donations@ammucare.org
Additional step for NEFT or Paytm donations: Pls send the below details to 
donations@ammucare.org
 :
1. Transaction Id of the fund transfer
2. PAN Number (if you require the 80G tax exemption receipt)
3. Cause for which the donation is given (donation is towards Rath Yatra Seva)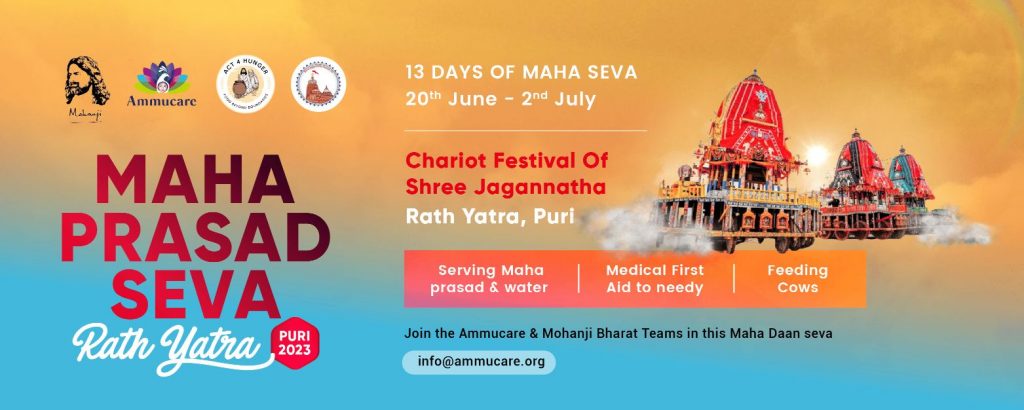 A Sacred Place A Sacred Time A Sacred Offering