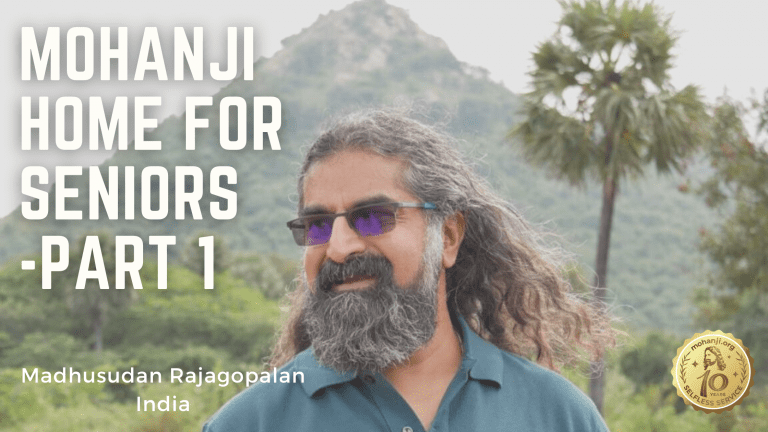 By Madhusudan Rajagopalan, India
This is a story from the book – Guru Leela 5
The Mohanji Home for Seniors in Tiruvannamalai (Tamil Nadu, India) started operations on 1st September 2021. This has been a special project in many ways – the first physical space in India that went 'live', the noble cause of serving underprivileged, elderly people and the sacred location of Tiruvannamalai – home to the holy mountain Arunachala and several Siddhas and Masters. A substantial project like this has several nuances on how grace enabled progress every step of the way. This story is an attempt to take you through that journey. The journey of how Mohanji's vision unfolded. And the journeys of multiple volunteers who were a part of this story and witnessed it unfold before them, wondering how things actually transpired.
The seeds of this project were laid in October 2018 during a retreat with Mohanji in Tiruvannamalai. There was a seva activity during the retreat where Mohanji led a group to an old-age shelter that provided shelter to around 40-50 elderly sadhus. This shelter was in a makeshift hall – a dormitory with beds on both sides in a cramped space. The roof was held up with tin sheets which made it exceedingly hot during the summer.
However, the caretaker, Ramana, managed this setup with great dedication, tending to the seniors with much love and sincerity to keep them comfortable. We had known about this shelter earlier, having visited it during a trip in December 2017, following which Mohanji had organised for Ammucare Charitable Trust to support them with groceries and supplies from time to time. During this visit, our group learnt that the centre was facing a threat of eviction by the local municipality.
Some of these elders were unwell, and some had been abandoned by their families – a tragic tale that plays out at several sacred locations in India: families bring elderly members on a pilgrimage and then abandon them there for various reasons! In fact, when our group interacted with some of the seniors, they even mistook them for their long-lost family members! This experience really moved Mohanji and our group members. It became clear that the status quo would not suffice for much longer.
Upon their return to the hotel, Pravin Thakkar (Pravinbhai), one of the retreat participants, mentioned to Mohanji that he would like to support an initiative to resolve this problem permanently. Immediately, Mohanji swung into action and initiated an effort to look for an alternative space for the sadhus. The first attempt was to look for a rental house that could accommodate the whole group of elders. But nobody wanted to let out their premises to such a group. That left us with only the option of buying land and building our own centre to house this group.
When Mohanji mentioned this plan to Ramana, his first response was, "Mohanji, many people have come here and promised us things. Please don't make promises to us that don't get executed." Mohanji assured him that this was not a vain promise and immediately activated our group to look for a suitable piece of land. Pravinbhai told Mohanji that he deeply resonated with this cause and volunteered to support this initiative – both financially and to galvanise additional support through his network of contacts.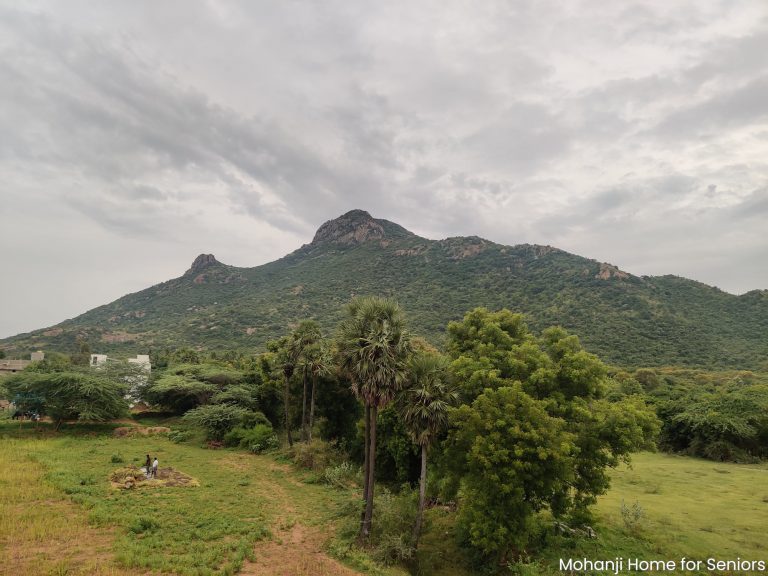 The search for the right land
Once Mohanji made this decision, the wheels were set in motion. Mohanji's specifications were clear as always – around 10-12 cents (100 cents of land equals 1 acre) of land, a clear view of Mt. Arunachala, a clean title of the land, and ideally, something that was between the Girivalam road (the road that is used for circumambulation of Arunachala mountain) and the mountain so that prayers could be offered to the mountain regularly.
Ananth Sankaran, a member of our group, was given the responsibility of coordinating this effort. Having visited this centre with Mohanji earlier, Ananth was familiar with Ramana and had some local friends and contacts there. Ananth was based in Australia, so he started calling local real estate agents to scout for the right places. This process began in October 2018. Real estate scouting is always fraught with risks, and finding genuine parties and clean land is often challenging. This is even tougher when one doesn't have local people on the ground to visit and verify facts. When Mohanji told me about this project initially, my role was to oversee the activities and support where required. I was based in Mumbai and spoke with Ananth regularly for updates. Soon, 2-3 months had passed, but no concrete progress had been made.
One day in early 2019, Mohanji called me and asked for an update. I told him where we stood – "We are speaking with people, and we are trying. So many challenges, hard to do this etc." He listened patiently and had only one thing to say at the end "Move quickly before Pravinbhai changes his mind about supporting this project. How long do you expect him to wait?" That question really shook me. In our heads, we were (supposedly) genuinely trying and facing obstacles. But the larger picture here was that the cause of supporting seniors was too important to let it languish. And if an opportunity was given, the opportunity came with a limited window. This was also a subtle lesson that every person supporting a cause is 'sent' by the Tradition, and not accepting the support promptly is tantamount to blocking grace and the gifts of the Tradition. What I didn't know at that time was Pravinbhai was possibly getting frustrated at the delays and wondering if the project would even take off. In a way, Mohanji's gentle warning put the project back on course!
This reality check led to a shift of gears. Ananth and I spoke, and we agreed that it would be more efficient for me to coordinate locally. By early 2019, my professional situation had also shifted, and I was dedicating more time to Mohanji Foundation activities, so it became easier for me to focus on this project. But the months of January and February 2019 were busy with the Mohanji Global Summit and the Kumbh Mela with Mohanji programs, so more time passed by. In early March, Mohanji called me to Bangalore for a few days to discuss some projects and move things forward. After a couple of days there, I was to return to Mumbai. But I had this sudden thought, 'Why not visit Tiruvannamalai and do some land scouting in person?' I quickly asked Mohanji for his guidance, and he responded in two words "Shubhasya Sheegram" (loosely translated to 'doing something quickly is auspicious'). This was the signal we needed, and we set about organising our trip immediately. There were a couple of other people also staying in Mohanji's home then, and all of us decided to take the overnight bus to Tiruvannamalai that night itself.
We had to plan arrangements for our stay in Tiruvannamalai and figure out which lands we would visit. As if on cue, all our arrangements worked out almost instantly. Bus tickets were booked, flight tickets rebooked, and bags packed and ready to go within an hour. Through a relative's reference, we arranged rooms for our stay at the Yogi Ramsuratkumar ashram. I made some more phone calls to our broker contacts, and we had a few land visits organised during our trip.
The next morning, in Tiruvannamalai, we started the day by visiting Yogi Ramsuratkumar's samadhi. I had visited Yogiji's samadhi twice before with Mohanji, and I always felt a special connection to this place. So when this trip fell into place, I was particular about seeking his blessings for our project. I also sought Ma Devaki (the spiritual head of the ashram and someone who had served Yogiji for many years before his maha samadhi) to consult her for guidance. Ma Devaki and Mohanji shared a special bond, having met many times earlier. I explained our project requirements and asked her if she could give us any leads or introduce us to someone trustworthy that could help us further. Just then, someone walked past Ma Devaki, and she asked him this question about lands suitable for us, and the person immediately referred us to somebody looking to sell his land.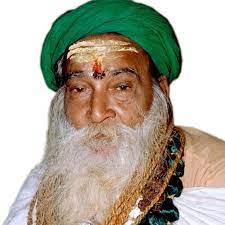 I called the landowner (let's call him Mr G), who explained his long-standing connection to Yogiji, more about his land and why he wished to sell it now. Ma Devaki told me that Ma Vijayalakshmi (another lady who had served Yogiji for several years) wanted to join us for this land visit, so our visit was in the ashram car. Though Ma Vijayalakshmi decided that the land was not suitable for her, being quite far from the ashram, it definitely felt like Yogi Ramsuratkumar was orchestrating the visit and taking care of our comfort.
After seeing nearly ten different options in 2 days, we now had 3-4 serious options that could be evaluated further. It almost seemed like the Masters were waiting for us to take a few steps so that they could ease our path. Mohanji often says, "If you flap your wings, I will be the wind beneath your wings." The unsaid part here is that first, one must flap one's wings!
I updated Pravinbhai and promised to keep him abreast of progress. I started communicating with the landowner Mr G to discuss title documents, price and other details. At this stage, this land looked the most feasible in terms of budget and availability. However, it was not exactly in line with Mohanji's directives (Mt Arunachala was visible from the land, but it was quite far from the Girivalam). I told Mohanji about the options, and he just advised me to keep moving forward; interestingly, he did not give concrete answers on which land to pick, nor did he rule anything out.
A few weeks later, in early April, I made another trip to Tiruvannamalai. This time, I met a lawyer to study the documents of Mr G's land more closely. I also met some of the landowners of lands shortlisted in the earlier trip. This process ruled out some of the options, and we were back to not having any concrete options. Given that I was based in Mumbai, frequent trips to Tiruvannamalai were not easy, so we roped in Kishore Mundanad into the project. Kishore was based in Chennai and the main coordinator for all seva activities in Tiruvannamalai. So he would visit every other week, and over a couple of trips, he identified some options that seemed to be more feasible for our requirements. One of these plots seemed quite suitable for us, even if a bit expensive and beyond our initial budget estimates. Kishore and I agreed that this would be the appropriate range for land costs, and he started discussing further details with the owner.
A couple of months passed, and further discussions led us to understand that the owner was now developing this land commercially, so the option we liked was no longer available. However, the landowner liked our cause and wanted to support us, so he mentioned the possibility of another land he was working on. He had not shown this to us earlier as he was still trying to acquire it, and there were some disputes within the seller's family at that stage. However, just as the other option fell through, this came back into the reckoning and the path cleared for this land. Kishore began talking specifics with the landowner as we felt that this could well be the land for us. I updated Mr G that we were not going ahead with his land as we wanted something closer to the Girivalam.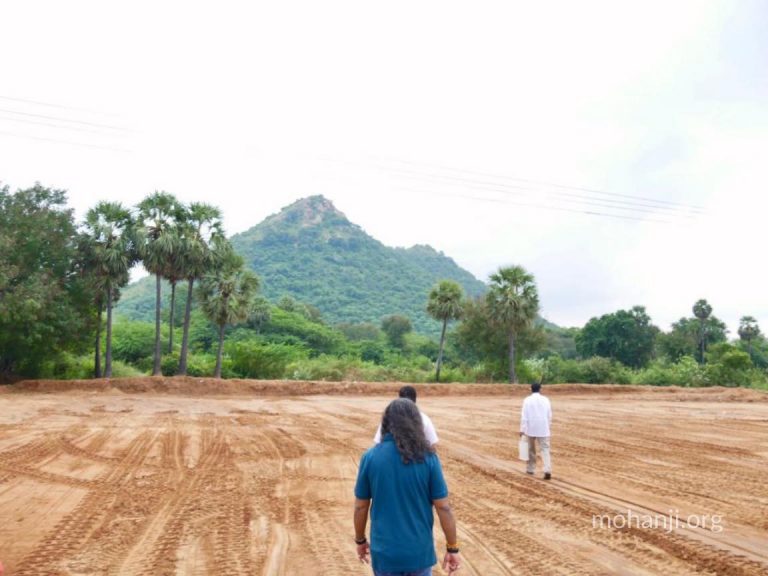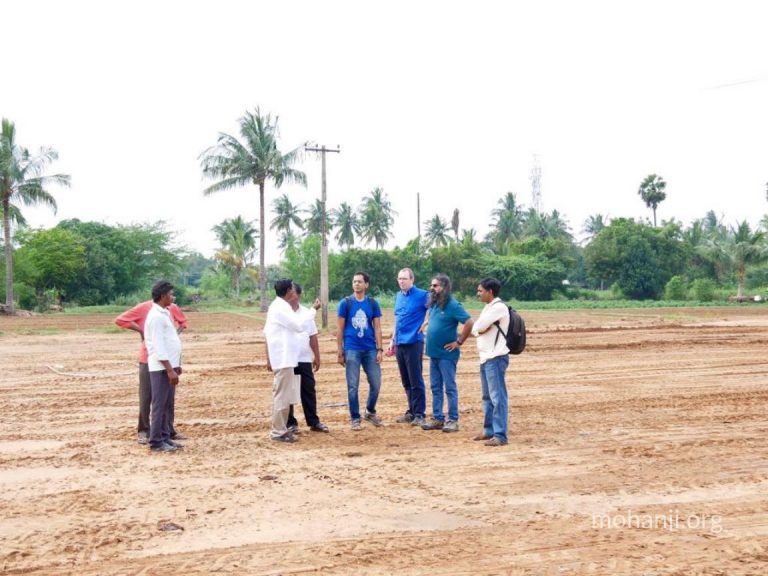 Soon we were in July 2019. I had the opportunity to attend the Guru Purnima event with Mohanji in Bangalore. Immediately after this auspicious occasion, I left for Tiruvannamalai to see the latest land options and meet the owners. As soon as we saw the options, we knew which land had to be finalised. It was a beautiful serene spot between the Girivalam and Mt Arunachala. It was 10 cents of land (the minimum that Mohanji had specified) and had a clear view of the mountain – it almost felt like one could walk from the land and touch the mountain in a few minutes. We met the owner that afternoon, agreed on terms and shook hands with him to finalise our land for the project.
The interesting angle here was that this land was also brought to us by an agent who was a Yogi Ramsuratkumar follower, so Yogiji's invisible hand was felt at every stage. The owner was an active member of the Brahmakumaris movement; in fact, the land opposite ours was being developed for Brahmakumaris. So it seemed like a grand collaboration for a noble cause. And later, the owner remarked to Kishore – "Normally, I would never agree to such a deal as I did with you guys. I am not sure what happened to me. I just couldn't say no to what you were asking." But we knew – it was Mohanji's grace working to power the project forward!
I updated Pravinbhai about this, and he was excited about our progress. He started mobilising financial support, and within a few weeks, we had arranged the entire sum required, even though this was higher than our original budget! We rapidly finalised all the legal details of the agreement payment milestones and scheduled an auspicious date for the land registration. Finally, the agreement to buy the land was executed on 29th November 2019 by Mohanji.
Once the land was acquired, the next big milestone was to inaugurate the project. Mohanji wanted us to move quickly on this, and we started looking for auspicious dates in Jan 2020. The chosen date was 29th January 2020, the auspicious occasion of Basant Panchami. After some deliberations, the name "Mohanji Home for Seniors" was finalised. Mohanji was keen that the inauguration be done not by him but by seniors who could appreciate this project's virtues. So the chief guests were Dr PK Namboodiri and Sridevi Namboodiri (Mohanji's parents), Snehajyothi Amma (an elderly lady in Tiruvannamalai whose mother was instrumental in taking Ramana Maharishi's teachings to Germany) and Mr TR Gopalakrishnan (TRG) from Chennai.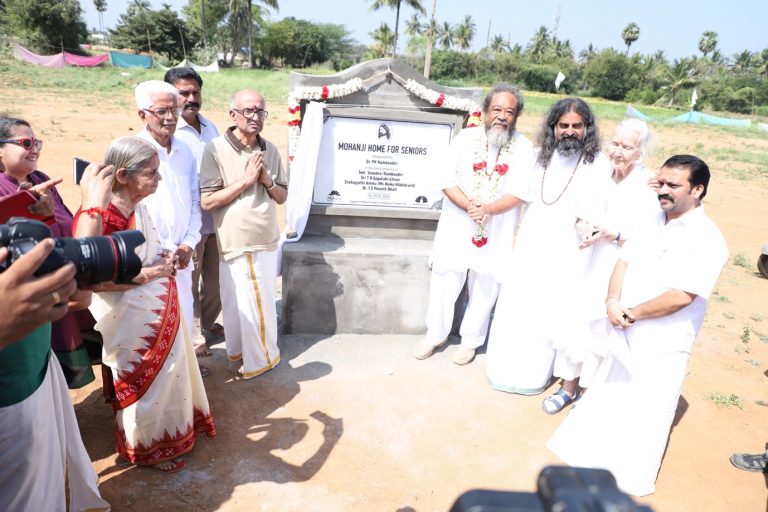 TRG was a retired senior shipping executive and had a deep bond with Mohanji, like a father-son relationship. Mohanji was very keen on TRG coming for this function, but TRG resisted, citing his old age (87 years) and various excuses. Eventually, it took strong, personal convincing from Mohanji to make TRG participate in the function. The reason for this insistence became evident much later when TRG passed away in June 2021. This project and its progress literally kept him going till his last breath and provided great fulfilment and completion, easing his onward journey. In that sense, Mohanji was fulfilling his duty by giving TRG that experience and allowing him to benefit from the grace that comes from serving the elderly.
Based on Mohanji's guidance, we got a foundation stone ready to honour all the above names and installed it just in time for the function. Priests were organised, invitations went out to our community, and the preparations fell into place. The week of this function happened to be among the busiest periods in Tiruvannamalai, so accommodation was a challenge. With some help from our friends, we managed to find accommodation in a new hotel. This led to another interesting 'coincidence' – Mooji Baba, a world-renowned spiritual Master, happened to be staying in the same hotel. The day after we arrived, Mohanji and Mooji ran into each other in the reception lobby. Their deep bond from before led to an immediate outpouring of love and affection from both sides and ended with Mohanji inviting Mooji Baba to the Bhoomi puja function. Mooji immediately agreed, despite the short notice and his busy schedule.
On the day of the function, everything went like clockwork. The pujas were conducted flawlessly, a large group of supporters came together to celebrate the occasion, and soon the chief guests unveiled the foundation stone to launch the project. Mohanji arrived with Mooji Baba, and both Masters addressed the audience to explain the value of serving selflessly and spreading kindness. At Mohanji's request, Mooji Baba planted two audumbar saplings at the site and gave his blessings for the project's success. Each audience member also put their intentions onto a brick and handed it over to the priests for consecration. Subsequently, bricks blessed by Ma Devaki at Yogi Ramsuratkumar ashram and Devi Amma, a great Siddha saint from Bangalore, were also added to this set. These blessed bricks currently adorn a wall of the reception area of the Mohanji Home for Seniors.
The Bhoomi puja ceremony was a big milestone and served to highlight several aspects of how Mohanji operates. Soon after the land registration, he wanted speed and got us to organise this function quickly without wasting any time. We didn't fully understand why at that point, but it became clear when the Covid pandemic hit India in mid-March, and lockdowns brought the movement to a standstill. If we had missed that window, the project might have languished for much longer, denying several needy elders the opportunity to stay at the Home. He also wanted to stay in the background and put the spotlight squarely on the chief guests inaugurating the function. In this way, he honoured the elderly in a very sophisticated fashion and allowed them to experience the completion of long-standing latent desires.
In fact, Sneha Jyothi Amma told Mohanji, "Many Masters and spiritual people come to Tiruvannamalai and give talks. But with you, I see that you don't talk too much. You only talk about what you actually do. This is why I like you!" Mohanji inviting Mooji Baba was a beautiful lesson in humility. Though this was his project, something that he had visualised and driven, he was completely open to sharing and even ceding the stage to Mooji Baba. This demonstrated his commitment to the cause – the more Masters that can bless a project, the better it was for the sadhus who would live there. And lastly, he handled the whole trip to Tiruvannamalai with a painful, swollen foot and mostly limping. Again, he showed that for him, purpose comes first, and nothing, not even severe bodily discomfort, can stop him from moving forward. I took those lessons as a big inspiration from Mohanji, and this set the stage for the next phase of the project – construction.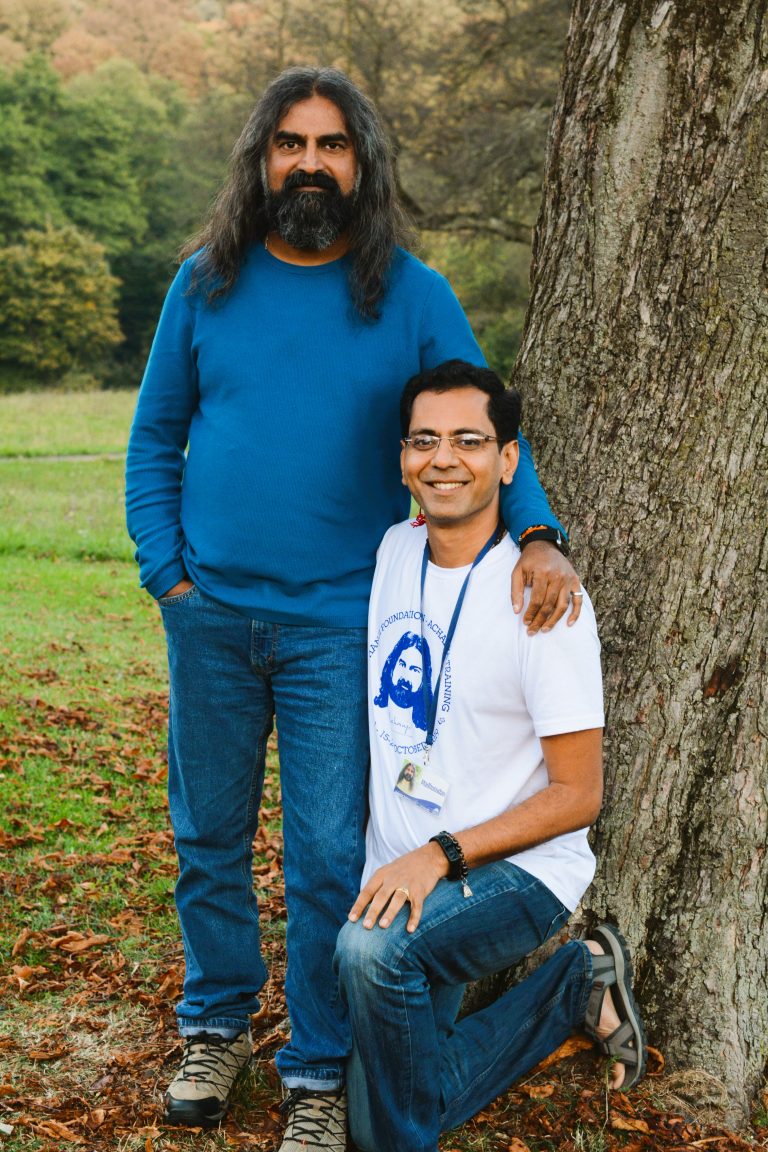 || JAI BRAHMARISHI MOHANJI ||
Edited & Published by – Testimonials Team, 30th March 2023
The views, opinions, and positions expressed by the authors and those providing comments on these blogs are theirs alone and do not necessarily reflect the views, opinions or positions of Mohanji, Mohanji Foundation, it's members, employees or any other individual or entity associated with Mohanji or Mohanji Foundation. We make no representations as to accuracy, completeness, timeliness, suitability or validity of any information presented by individual authors and/or commenters on our blogs and will not be liable for any errors, omissions, or delays in this information or any losses, injuries or damages arising from its display or use.
We reserve the right to delete, edit, or alter in any manner we see fit blog entries or comments that we, in our sole discretion, deem to be obscene, offensive, defamatory, threatening, in violation of trademark, copyright or other laws, of an express commercial nature, or otherwise unacceptable.
Mohanji Testimonials team